COFFEE 😉
"Geet… Geet where is my file yaar? Damn. She is so careless. Not a single thing is on it's place." He was cursing her for every thing.
One beautiful woman entered in the room and found him furious.
She went near him with a smile which compliment her beauty. She stare straight in his eyes.
"What is this Geet. Koi cheez apni jagah pe nahi hai. I give you one file and now that one is missing. Can't you keep things on place." He kept shouted.
"Have it." She offer a mug to him..
"What is this? I  asking for my file and you giving me this mug. How careless." He annoyed with her cool behavior.
"Peejiye peejiye." But she doesn't pay any heed on his bitter words.
He stare her with anger. "Maan peejiye." She insists.
Maan sipped and slowly his knotted brows turned normal.
When he done a sweet smile spread on his face.
Geet stare at him with a smile. She held his cheek.
"Finally mood set. Now tell me what you want?" She asked with authority.
"That file I give you last night." He told her but his tone was completely changed. Geet open his drawer and show him the file. "Here it is. I keep it here before you still you forgot."
"Wo main…" He fumbling.
"I know I know… It's okay." She smiled at him and he squirming badly.
"Okay I have to go." He said and left without saying anything.
Next day same scene repeat. In fact from last 9 years it happens daily.
"Geet tume maza aata hai Bhai ko sata k?" Her sister in law asked.
"Ha aata hai. He teased me every night so I play in the morning." Geet winked and she shook her head.
"Geet…" She showed her a big eyes.
"Mumma what bade papa do in night?" Her 6 year old daughter was sat near and asked innocently.
She stare Geet now. Looking for the answer. "Aanya do your homework." She scold him.
"Meera it's okay. I will handle. "Aanya your bade papa is so moody. You know na he doesn't like anything easily. So I punished him for leaving his food in plate." Geet explained and tackled her.
"Badi mumma I never leave my food." She told her proudly.
"You are my good bachha." Geet caress her head and moved to kitchen with Meera.
"Geet grow up. You said anything anywhere without notice your surroundings. Geet you are not kid any more. Infact you are mother of two kids now." She reminded her.
Geet giggled and she stare her. "No seriously 9 years passed to our marriage I still don't get what connection he have with his coffee. Wo sadi si coffee Pete hi unka mood kaise set ho jata hai ye muje aaj tak samjh nahi aaya." Geet was so amused on the fact that a single mug of coffee do magic and calm down the volcano of Khurana Family.
"Do one thing. Ask him tonight." She winked to her and Geet flushed like a new bride.
After dinner all went to their rooms. Maan was waiting for her. She arrived at 10:15. Maan hugged her from back side.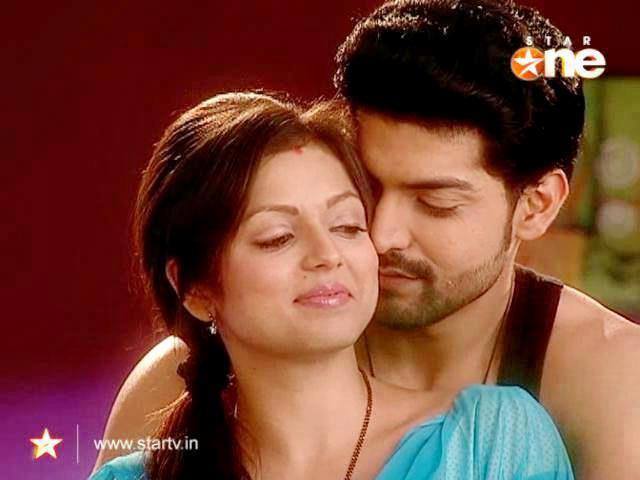 "Where you were? I was waiting for you." He stroke her cheek with his softly. His hands caressing her body. She flushed.
"I know why you are waiting for." She slanted and glanced in his dark eyes.
He turned her. Her hands softly caressed his chest He braced himself as her hands caressed his chest lovingly, gliding over his skin, setting his whole being on fire. The contact felt like pure sex, so erotic, so sensual.
Knock on their door and their trance broken. Geet slipped out of his arms and to open their door. Soon their kids not only entered but running here and there without caring for anything.
"Hey hey wait wait. Now what happened?" Maan stopped both and asked the reason of their chase. His voice is God's command for both. They glued to their places. Their daughter hides in his legs.
"Dad she took my colour pencil again." His 7 year old son cribbed.
"Ansh come here." Geer took him to other side so he will not hit her.
Maan took his daughter in his arms. "Jaagruti you took bhaiya's pencil?" He asked softly, stroking her head, pushed her hairs behind and she nodded no.
"Liar…" Ansh tried to hit her but Geet held his hand.
"Ansh no." She stopped him.
Maan glared him and he sat back in his mother's lap. Maan turned to his daughter. "Sweety give back bhaiya's pencil." Then he whispered something in her ears and she smiled wide and shook her head in pace. Same time she gave all pencils to her brother. Geet amused how he managed every time when she act stubborn.
"Now come on it's to late." Geet went with them to made them sleep in their room. She changed her clothes. She is very naughty. troubling her sibling and cousin all the time but because of Maan no one had a courage to said anything to her.
"Shona don't jump. Let me change your clothes." Geet pleads and she giggled exactly like her mom. Geet nuzzles and kissed her. "My naughty girl."
"Mumma I love you." She said sweetly and kissed on her cheek.
"I love you too baby."  Geet kissed her sweetheart.
After made her laid on her bed, Geet moved to her son. She gave him change when Maan entered in their room. He moved to her princess and kissed on her forehead. She to kissed back to him and showed her love towards him.
Geet made her son laid on his bed. She kissed him. "Mumma I to love you." He too confessed.
Geet caressed his head tenderly. "We to love you son." Maan sat near him and told him. " We both love you two equal but you are her elder and it's your responsibility to take care of her. Protect her. Don't you?" He asked and Ansh nodded in pace.
"I am sorry Dad." He apologized.
Maan smiled and caressed his head with all love and care. "My good boy."
Both covered him and turned off the lights. They went to their room. Maan locked it quickly. His gazed her and quickly grabbed in his arms.
"Now all set." He nuzzles her. Pulled her more to him.
"You are so hard Maan."
He pressed her against him. Leaned her down to bed. Their hands entwined.
Maan glance at her. Leaned to took her luscious lips.
Her brown eyes darkened as she looked up at him with a pleading glance. He just peck on her lips when another knock disturbed their moment.
"Maan", she alerts him. Asking him to leave her. Maan nodded no. "Maan please…"
"Badi mumma…." She heard cry sounds of Aanya.
"Maan Aanya is crying. Leave me." She pushed him away and freed herself. Geet opened door and found little girl in tears.
Geet bend on knees and wiped off her tears. "What happened? Why my doll is crying?"
She showed her one broken doll. "Badi mumma Devansh broke my doll which you gifted me."
Geet took the broken pieces from her. "Okay don't cry. Don't cry. Badi mumma apko new doll la dengi. Tomorrow we all go for shopping. Now stop crying." She took her up in arms and went outside. She tried to sort their fight. Devansh is exact copy of Jaagruti. Both love to tease their siblings. He broke his sister's toys. It took lot of time to sort the matter
After half an hour she arrived in her room. Maan was in bad mood. She steadily went near him and hugged from backside.
"Angry?" She asked but Maan didn't replied. "But I know how to make it again." She left him and pass a mug to him. Aroma hit his nostrils. He smiled. "Have it we have long night." She winked and Maan grabbed her.
Once again his coffee did magic to him. His eyes glints. "By the way what connection your mood have with coffee?" Geet finally asked.
"I will explain in detail…" He lifts her in his arms and took her to their bed. Loving each other forgetting rest of the world.